Tulku Lobsang Rinpoche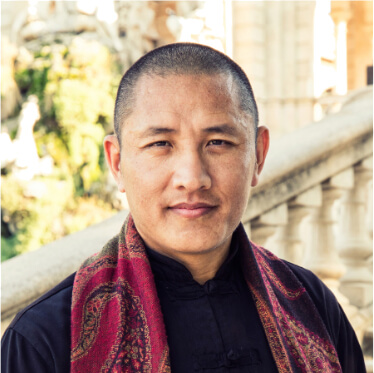 Tulku Lobsang Rinpoche
Tulku Lobsang Rinpoche is a high Buddhist master and teacher. Born in Amdo, north-eastern Tibet, Tulku-la was recognized at the age of 13 as the eighth reincarnation of the Nyentse Lama. Rinpoche bases his teachings on the ancient knowledge of Tantrayana, which is the foundation of both Tibetan Buddhism and Tibetan Medicine. Tulku-la travels through Europe, America and Asia sharing his deep knowledge of this precious wisdom.
Tulku Lobsang Rinpoche's teachings are characterized by his kind, humorous, and warm-hearted nature. Rinpoche bridges worlds and translates the ancient wisdom of his venerable transmission lineage into practical advice for the present day. Tulku-la's greatest wish is to reduce suffering in the world by sharing this profound treasure of wisdom. Rinpoche's traditional background and charismatic, straightforward style make him a wonderful and wise teacher.
Videos
Tulku Lobsang Rinpoche presents Tummo on National Geographic
Rinpoche appeared on National Geographic's TV program "The Story of God with Morgan Freeman." In the episode "Is God Inside Us?", Tulku Lobsang introduced Tummo - an ancient practice of Tantrayana Buddhism - and spoke about its power to connect us to the divine within ourselves, to the Buddha nature innate to all of us. As a Tummo expert, having practiced it for over 25 years and taught Tummo to countless students, Rinpoche also shares this precious knowledge in his course "Strengthen Your Self-Healing Powers with the TUMMO – Inner Fire Practice".
Here you can view the National Geographic trailer:
Guru Yoga Retreat - Germany, Mar 2020